Devan Rajkumar
Even being the worldy chef he is, Devan Rajkumar insists that, when it comes to food and cooking, he is stupid. His words, not ours.
Chef Devan Rajkumar is not like many other chefs we have met. This became more and more apparent as we were chatting with him, but the very first hint at this conclusion came when we turned up to our interview. Instead of sitting down in one of Toronto's fine-dining restaurants, or a plush bar, we met Devan at the Luxe Appliance Studio on King Street East. Far from the confined kitchen spaces we've been used to seeing across the city, interviewing people around small dining tables, this was a beautiful, bright, and spacious kitchen studio, primed for use on TV with every high-end appliance a chef could dream of.
So just why did we meet Devan here? Well, this is a question that conveniently sets up our story of this remarkable Toronto personality. See, Devan's path into cooking and into becoming a chef was rather unorthodox. He avoided the classic grind behind the line for years, and decided to skip the constant pursuit of more and more prestigious restaurants and job titles. 
Instead, Mr. Rajkumar forged his own path, travelling the world for months, starting food pop-ups, working events for free, giving demonstrations, offering private catering, and even appearing on Toronto's television screens in some of the city's favourite cooking shows. And honestly, this doesn't even scratch the surface of his journey to where he is today.
It won't surprise you to hear, therefore, that Devan has a huge variety in his work. Every day is different, with new people, new projects, and new places, and he relishes the challenges that come with this, and takes on the challenges with his trademark high energy, confidence, and gusto.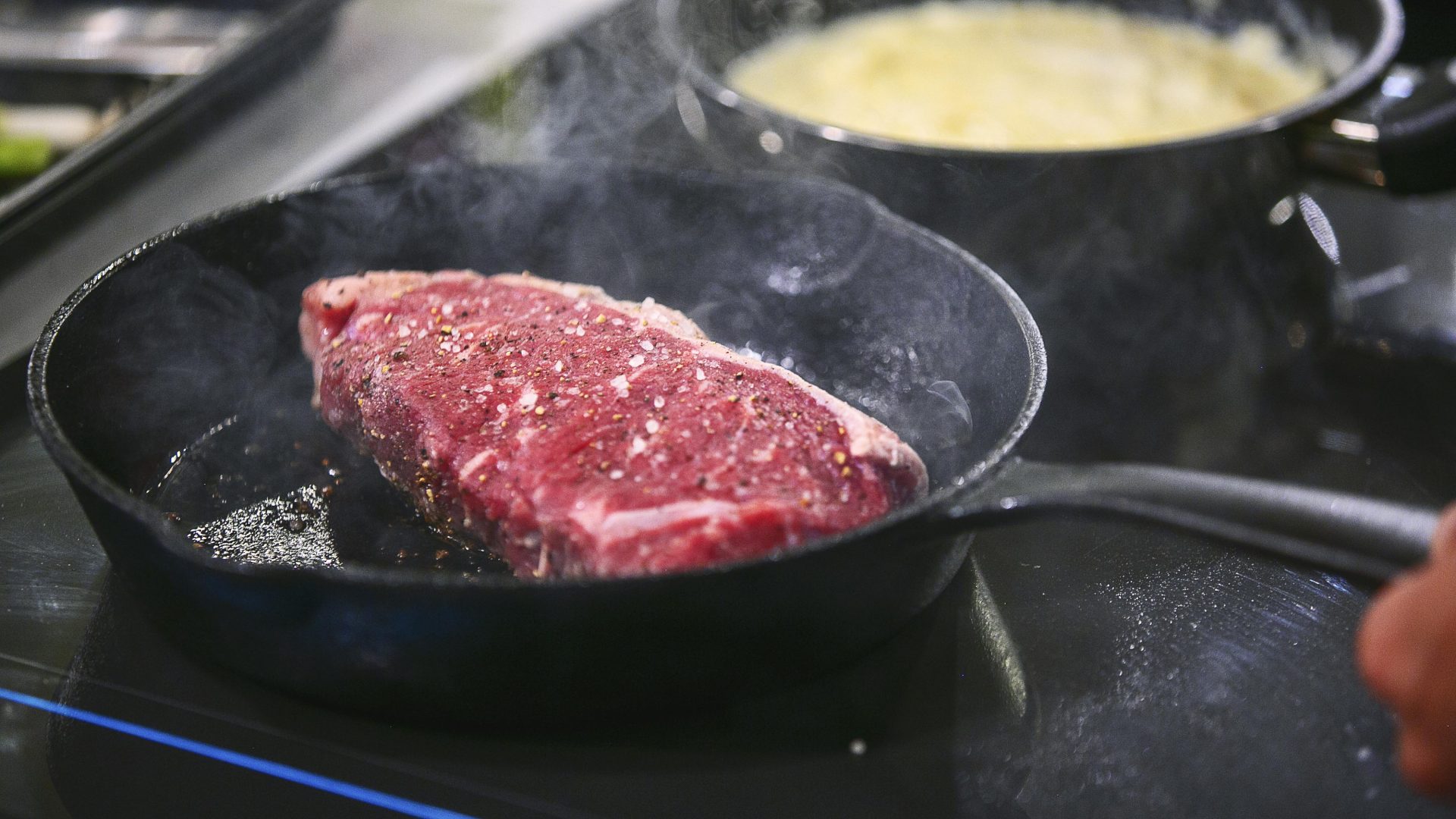 "All I [ever] knew is that I wanted to differentiate myself. And I like variety, because with the variety I don't get bored. It doesn't become redundant and monotonous at that point. So that's one of the reasons why variety appealed to me so much. It's because every day I can do something different. I can shoot with you guys here now, and we can have fun. I can help out Dustin (Dustin Gallagher – a chef with whom he shares this space) with his live hands-on cooking demo today. I can do CityLine on Monday. I can cook with kids during the week, cater on the weekend. I'm judging the Miss West Indian-Canadian Beauty Pageant on Sunday. Every day is different, and I think that's really important."
It all sounds very exciting, but how did he get here? How did a chef get around doing 15 years behind the kitchen line, but then appear on CityLine? 
Well, somewhat surprisingly, it didn't really look as though Devan would go into food at all. Born and raised in Toronto to Guyanese parents, he went to boarding school in Nova Scotia, and then had to start thinking about college, university, and his future. 
"My dad was an executive businessman and I never considered going to school for something i was passionate about, because I thought my options were medicine, law, and business. That was basically all I was ever presented."
"I went to Wilfrid Laurier for business, then Ryerson continuing education for several years. This is up until my early-twenties, and then I finally went to culinary school. And when I went to culinary school, everything changed. I went from writing exams on balancing sheets and standard deviation, and I started replicating mother sauces, jumped into butchery and writing essays on clarified butter, studying internal temperatures of meat so on and so forth."
It wasn't until 2010, when Devan was 23, that he actually started culinary at George Brown College. And here, everything opened up for him. He discovered a real passion for cooking, and he "couldn't wait" to wake up to go to school. So profound was his passion, he was even doing cooking demonstrations while he was studying.
"While I was going to culinary school, I was teaching classes at Longo's. So I'd go to school during the day and then I was teaching at 5 Longo's locations in the evenings."
Quite the turnaround from a would-be lawyer.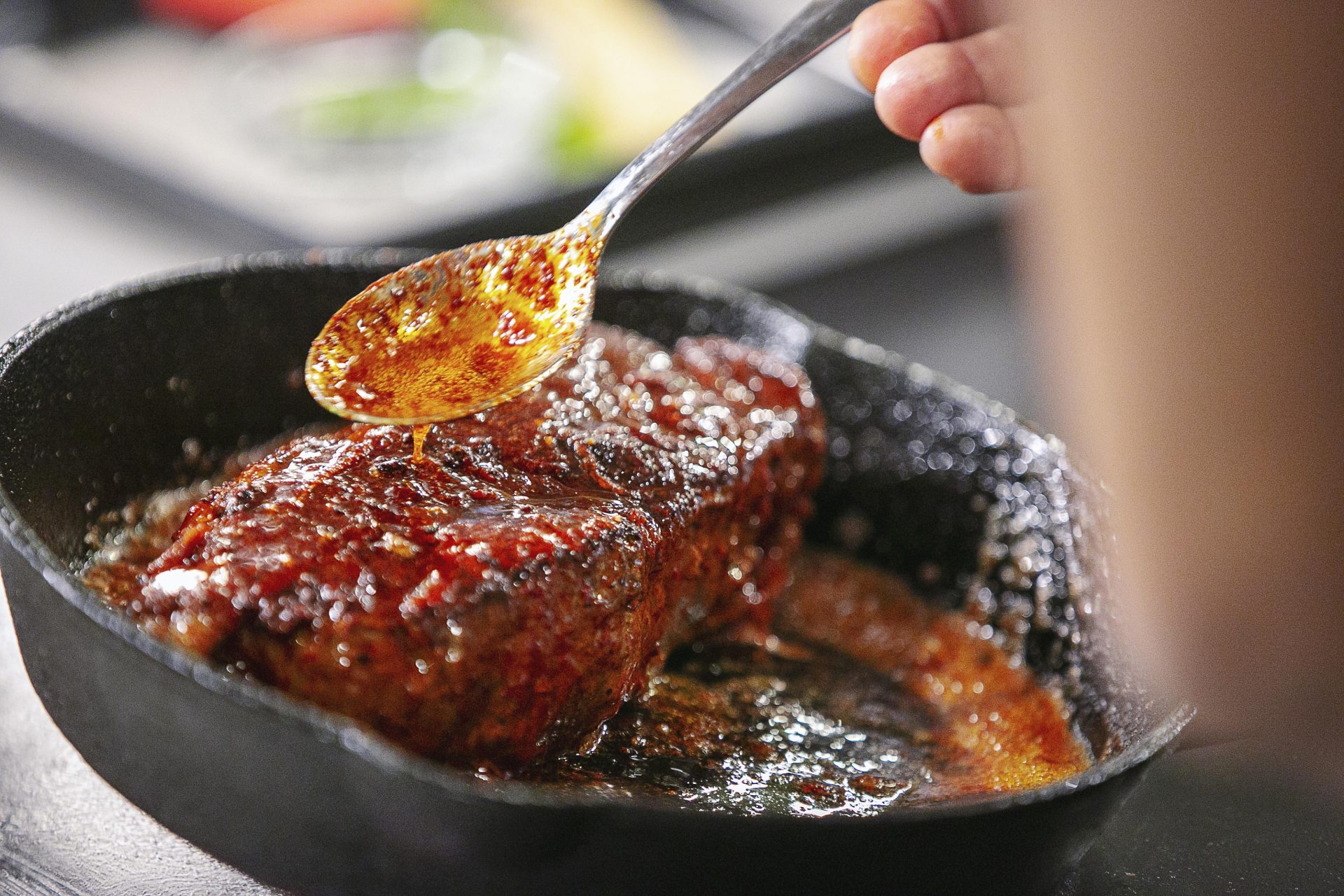 But his desire to do teaching classes before he'd even left culinary school is a mark of Devan's character. Back then, he wanted to learn as much as he could, and immerse himself in food. Every food experience he's had since attests to that hunger to learn and learn. Even with both school and cooking shows in his schedule, he still found time to take up an internship with The Food Dudes. 
As context, The Food Dudes were a new catering company in Toronto, who at the time were working out of the back of Empire in Yorkville. Joining a team of 4 chefs in the kitchen including Chef Adrian Niman and Chef Dan Frenette, they would grind caterings out of their modest kitchen. For a student to join a catering company instead of a restaurant may seem curious, but we've already established that Devan has never been one for the orthodox.
"Everyone in culinary was going to Sassafraz, and they were going to Harbour 60, and they were going to all these big places. I didn't want to do that. I wanted to go somewhere more grassroots, where I could learn more, and I ended up going to The Food Dudes of all people."
And it turned out to be a solid choice. Even once he had finished culinary, he ended up working for The Food Dudes for a total of 2 years, working his way to sous chef and running his own events. It was an exciting time to be at the company, growing something new with a group of like-minded chefs. "Food Dudes started to grow big time through those couple of years that I was there. I'm not saying it was because of me, but I would hope to think I contributed. 
But when he left culinary, was it a deliberate choice to take this first step down such a non-traditional route? 
"I didn't know what "classic" was. All I knew is that I had to do me, and all I knew was that there was a way for me to make this work, where I wouldn't have to go kill myself on 100 hour work weeks. I would work those kinds of hours but for me….A lot of chefs'…aspirations are to run and work a line for 10 or 15 years. That wasn't mine."
Now, although the unorthodox might sound like it was all fun and games, there was a lot of hard work going this way too. "[At] Food Dudes [we] had a one month straight stretch before, and the difference with catering is you're loading in and out your kitchen every day from different venues. It made me tough. After a couple weeks straight you can't feel your hands anymore but you keep on. 
Painful hands aside, Devan looks back with great fondness at his time there. He remains a brand ambassador to this day, and is still connected with the team there. But, of course, there came a time when he was ready to move on, and continue forging his own path. He found out about an opportunity at Luxe Kitchen, the location of our interview, and for him this was another chance to continue building his own brand, and finding his own way in Toronto's food scene.
During this first stint here, he worked in the kitchen for 2 years, from 2012 to 2014, doing demonstrations and furthering his cooking skills. "I knew coming in here that I would really be able to hone my public speaking skills, and it gave me no one to really answer to…This is the most beautiful kitchen in the city in my opinion. Especially when you really get to learn the appliances. You can really be a wizard in here."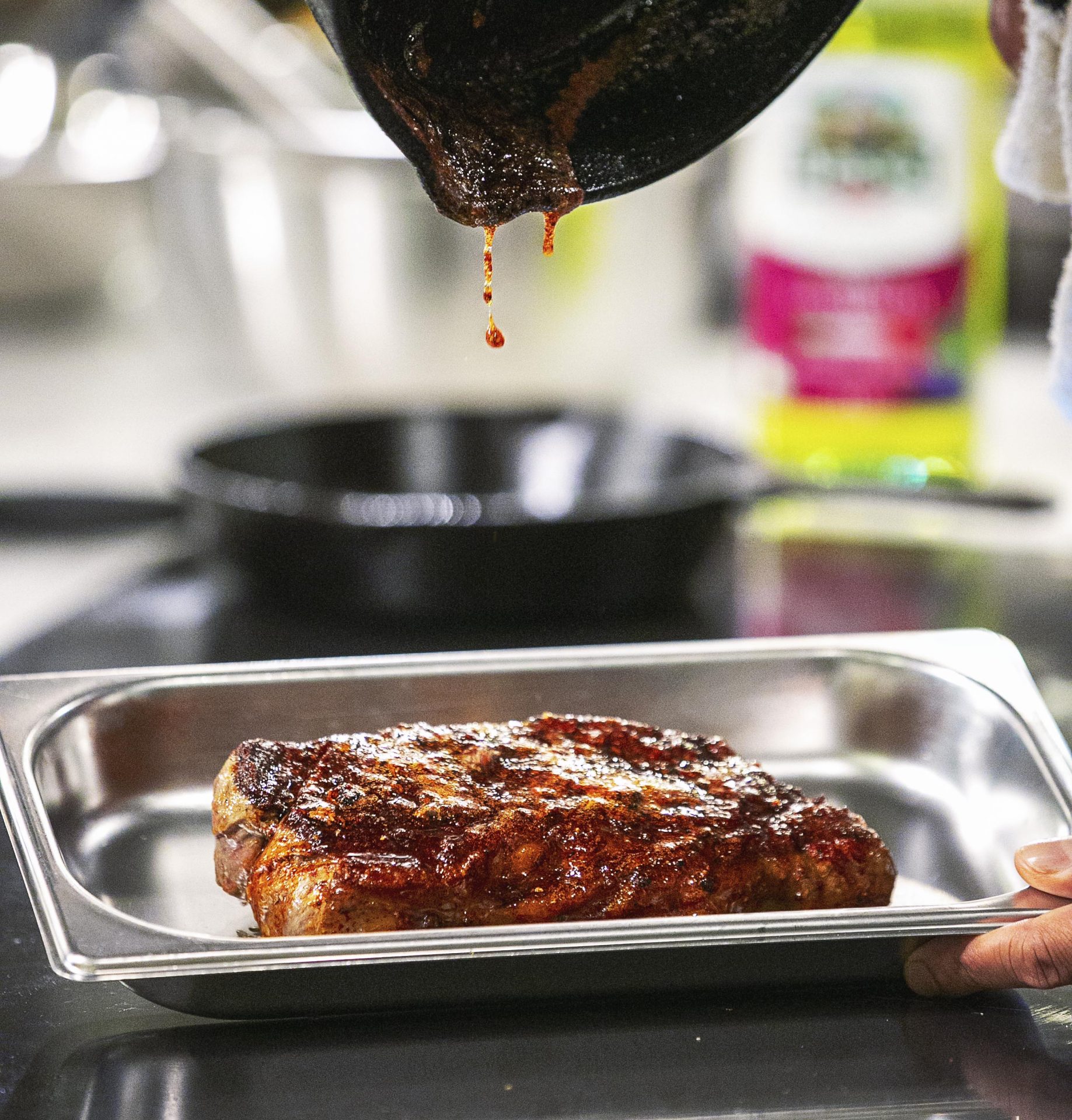 Once he was confident enough in his public speaking ability, and he felt better equipped in terms of his cooking, he started his own catering company, ChefDev, and moved into television work. This was really when Devan started to branch out on his own, and managed to get himself on CityLine in 2014. From here, he got into menu development, more television, and more media, and he continues these kinds of projects to this day.
But in his typical fashion, he knew that there was more education to be had outside of Toronto and outside of Canada. So, after a brief stint at Omaw in 2015, he planned a trip from January to July to essentially do a 6-month world food tour. 
"I did a month in India, a month in Dubai, came back to Toronto for a few weeks, then was gone again. A month in the UK, a month in Peru. So it was just under 6 months…I had saved up some money, and I knew I had to take off. And as I left, I started to meet cookbook authors, chefs, [and] homecooks."
Devan had actually left with an ambition to eventually open an Indian restaurant. "I wanted to gain knowledge, that's why I did a month in India, Dubai, and London. So I could learn about Indian food to start doing an Indian restaurant when I came back."
But the idea of opening his own restaurant didn't last. Even though this goal was a large part of the reason he started travelling, it was actually the travelling that caused the change of heart. 
"And as I travelled I realised that the restaurant life may not be for me. Although I came back [and worked at] Loch and Quay, that was a different kind of opportunity altogether. I didn't think that the restaurant industry was for me. So I travelled and then I did demos in Borough Market in London, where I had travelled and walked around as a kid. [I] went to Peru [and] worked in a cevicheria for a couple of weeks."
Undertaking such an incredible trip, it might not surprise you to find out that he enjoyed one of his all-time favourite food experiences while he was busy gallivanting around the globe. Asking him to recount a standout food memory, he did not hesitate to begin his description.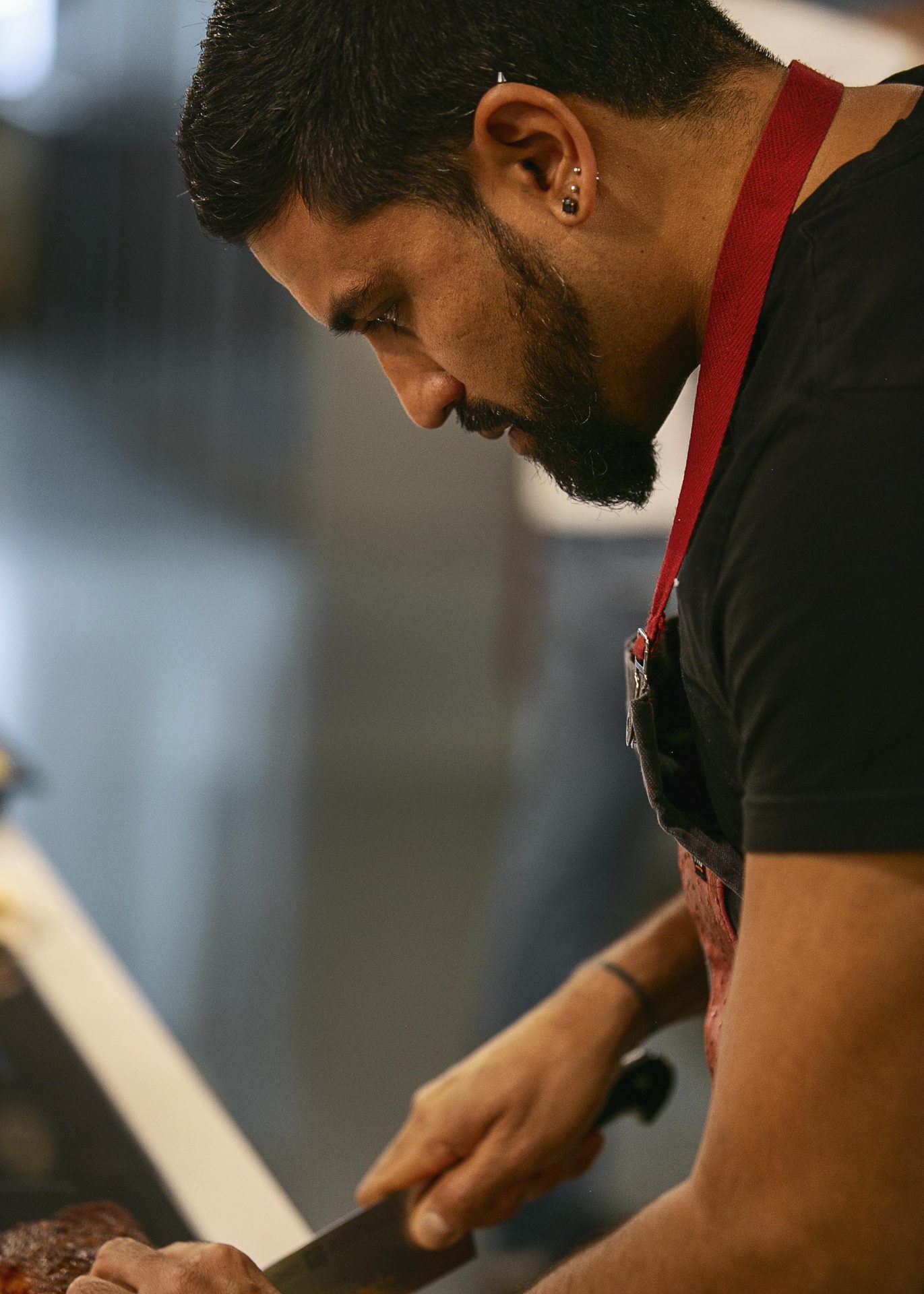 It all started after he returned from a long day at the Taj Mahal, and came back to his accomodation. When he got home, he met a random guy from Amsterdam in the evening, and they immediately hit it off. So much so that after 3 hours of conversation, they had agreed to head to Kashmir together in a couple of days.
They flew out there, and the guy he was with ended up getting them onto a boat trip. They took a cooktop with them, and started preparing food on the boat. They angled the boat so that behind Devan were the Himalayas, and they captured a stunning shot of him preparing food with a mind-blowing view of the mountains behind him.
But, of course, as the food hustler Devan is, he wasn't content with just a photo. He also filmed a 2-minute video for CBC to send them a cooking demonstration. 
"So that is something I will never forget. That's probably the highlight of the trip. There were many, they were countless, but I never thought I'd be able to do stuff like that. That's a dream come true."
Yet even though he was learning and experiencing so many things, he underestimated the value this would add to his career. "I had no idea travelling on that trip that it would provide me with the credibility that I have now…when I came back… I was considered a very worldly chef. That trip led to me doing menu development in Scotland this year for 2 months. All of May and June I was doing menu development at an Indian restaurant in Glasgow, on the prestigious Ashton Lane." 
But the biggest thing for Devan, the biggest thing he took away from the trip, wasn't any individual experience. It wasn't any particular door that it opened to him, or a job that it allowed him to take on. Instead, the main lesson for him was that he was stupid. 
"Everyone asks me "what's the biggest thing you learned?" And I [am] like "that I don't know as much about food as I thought I did." Take India for example. Every 50 klicks you travel, the menu changes. And in Peru you've got 7000+ types of potatoes. Not to mention the entire Amazon which is mostly undiscovered, which is all millions and billions of new ingredients and items and leaves and grains…Even in Toronto, I'm hosting this show for LCBO right now, [and] even in Ontario I'm finding honeynut squash, varieties of tomato I never knew existed, you know. The best butter. All this stuff that I never really had a strong grasp on before."
"That's why I told you before, I feel stupider now than ever. We're gonna spend our whole lives learning and we're gonna die stupid. As much as you want to learn, you will die stupid. I will die stupid. That's how I feel, because there's just too much to possibly know. So I very much feel that way today, and I hope I always do."
A rather humble response from a worldy chef like Devan, we thought. We wanted to dig into this a little more, and find out how someone with so much experience could genuinely consider themselves stupid. We asked him if he'd had failures or setbacks in his career which might help to explain this humble streak. And while he struggled to name a standout in his failures, then it hit him. 
"There's a lot of things that I regret. I can't really single one thing out right now…..OH! I have a f**king great example."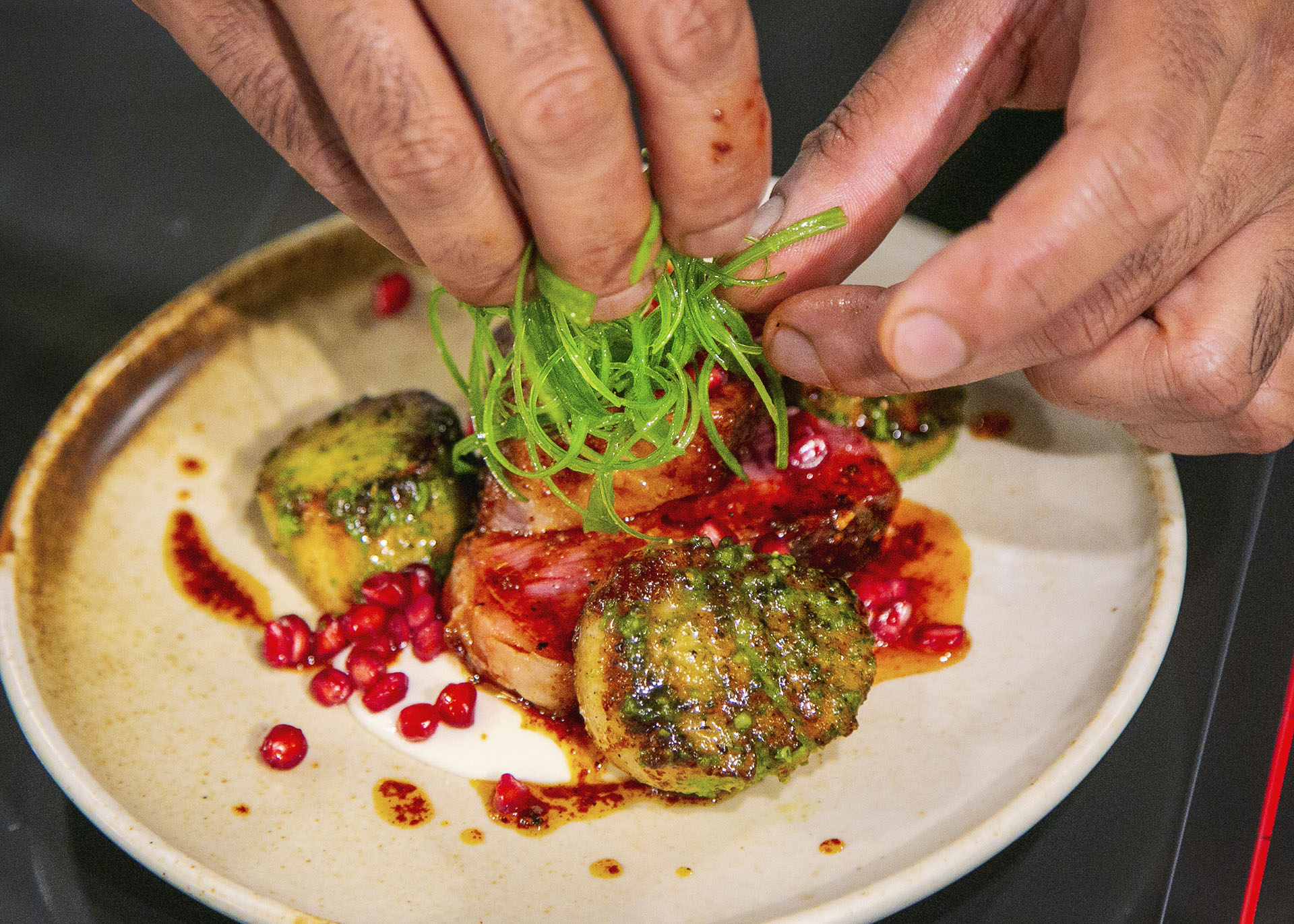 And with that, he takes us back to a cooking demonstration he gave in the very kitchen we were sitting in approximately 8 years ago, where he was preparing food for a group who had won the opportunity at a charity auction. "I'm here, and I think I'm a big shot, "Chef Devan, I'm the sh**" and whatever. And I'm here chopping…and I nicked off a decent chunk of my thumb. It wasn't a crazy big chunk but it was one of those cuts where it just did not stop bleeding."
"I was in the back room for like 20 minutes looking for gloves, and we didn't have any gloves here at the time. And that was a very big moment for me, because I realised for myself that (a) it's not all about me. That's not why all these people are here. [And] (b) you can never get too confident and too cocky in the work that you're doing. So I always scale back, I always try to reset." 
"[But] imagine 8 people are standing around you, and you cut your thumb and it starts bleeding. Could you imagine?? And this is towards the end of the demonstration when I have to start plating food. So I have to wrap a towel around my thumb and squeeze it and hold it. So that was a huge fail, but really really beneficial for me, man." 
As with many things in life, it often doesn't hurt to have your confidence knocked a little. Devan grew from the experience, and learned yet another lesson. Embarrassing certainly, but humbling most importantly. And in a career that has had so many highs, a reminder that he is not perfect, even "stupid", is something he is glad to have happened. 
But after making him recount his rather public mishap, it was only fair that we gave him the chance to pick a proudest moment as well. His answer was incredibly refreshing, in that he opted for something he is doing right now. Given our conversation with him up to this point, this makes total sense. This is a guy always looking to grow and improve, so it follows his proudest moment would be at a time where he considers himself to have grown and improved the most. So, what was this proudest moment?
"The LCBO show. And I'll tell you why. I never thought I'd have an opportunity to discover artisanal food and drink across my own province. That's number one. Number two, they're pinning me up with such amazing people. The guests on the show are Dustin Gallagher, Tania Ganassini, Suresh Doss, Nick Liu, Miranda Keyes, Trevor Lui. All peeps I look up to, all culinary chefs I grew up watching and following their stories. So the LCBO show, because I get to represent where I'm from, I get to explore. I'm slowly becoming Mr Ontario which is beautiful, because as a chef I'm always pushing sustainable, local, and ethical practices, and this is all local. So yeah, and I think it's nice to pick something very current for me because this is a big deal."
And with that answer, we are brought neatly back to the present day. His experience so far, the ups and the downs, the travels and the lessons, have shaped the Devan we had the pleasure of sitting down with. So, you might ask, what is the culmination of this amazing journey so far? How does he approach food, and what purpose does food serve for him?
Firstly, he was keen to impress how important seasonality, sustainability, and locality are to him. Buying local, being environmentally-friendly, and supporting local economic growth, is hugely important for him. Building a sense of community and helping those around us is something that food has the power to do, and Devan is all about harnessing that power. 
And beyond helping the community, for him food is also about nurturing people. "Doing for others is a big thing for me, and nurturing and caring and feeding people is one of my favourite things to do. I notice whenever I'm cooking, if I'm cooking for us 4, I'm gonna take 10 minutes plating food. But all my sh** is just gonna go into the bowl. It's really all about you at that point. I want to impress you and take care of you and I want to make you happy…transport you to that other place."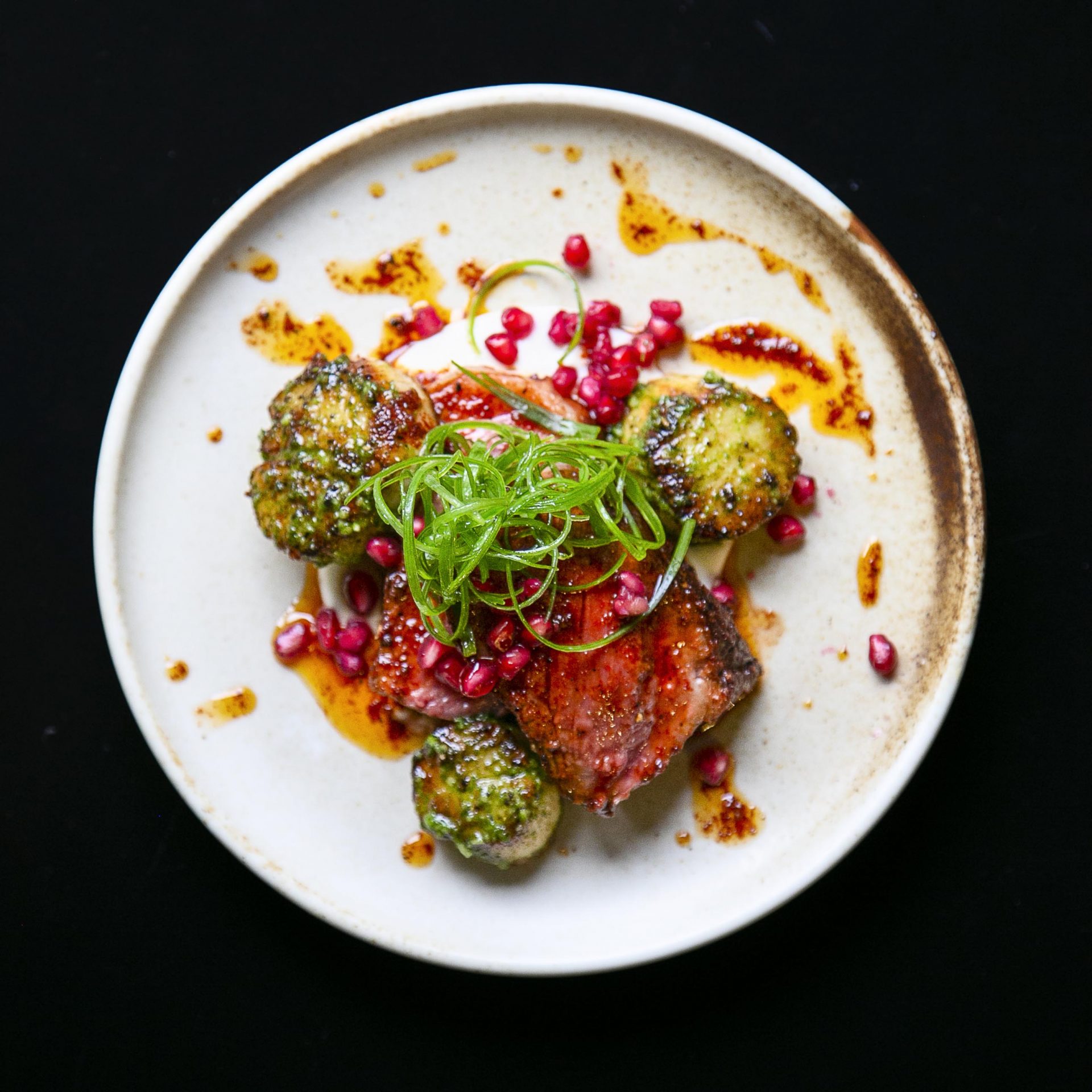 But the reason behind the care he takes with his food also goes beyond nurturing people. He wants to blow minds with the flavours he creates, and show people tastes they've never encountered before. 
"I never really want to cook for someone and impress them and wow them, I want to rattle them upside down with flavour profiles, and shake them to the core. So that's one of the things I've always really focused on when I cook…I know what it's like to have your eyes roll back in your head and I know what it's like to be completely speechless after biting something. So I wanted to be able to recreate that experience for people. So when I'm cooking for people, I keep tasting [and] I keep tasting until I know it's going to rock someone's world. It's really important man. Continual adjusting."
Well-traveled, environmentally concerned, and a mad scientist in the kitchen. Maybe not so stupid after all.