Stephanie Duong
Having lived in France and learned their dessert secrets, Stephanie is now spreading the joy of cake in Toronto.
It was a crisp, sunny morning when the Faces of Food team showed up to Roselle, to meet co-owner and executive pastry chef Stephanie Duong. We stepped into their second and newest location in the heart of Queen West, the walls fresh with buttercream colored paint. 
As Stephanie made coffees we admired the lines of fluffy eclairs, creamy milk chocolate mousse and candied pecan tarts like children who'd landed in confectionary heaven. But before this pastry paradise came to be, a lot of hard work and grit were required. Fortunately, Steph picked up this trait from her mother, a woman who raised her on her own.
As well as being a role model for hard work and determination, her mother was also a great cook. From an early age, Steph cherished a good meal in her mother's company. She would always provide nourishing meals consisting of Vietnamese soups, pickled mustard greens, pork, and noodle dishes. Stephanie took it upon herself to bake for the family, with no serious intent to make anything spectacular. She purchased the Betty Crocker cookbook and started to make cookies, brownies, and cupcakes for loved ones in her spare time. "I loved the feeling of making them happy," she reminisced.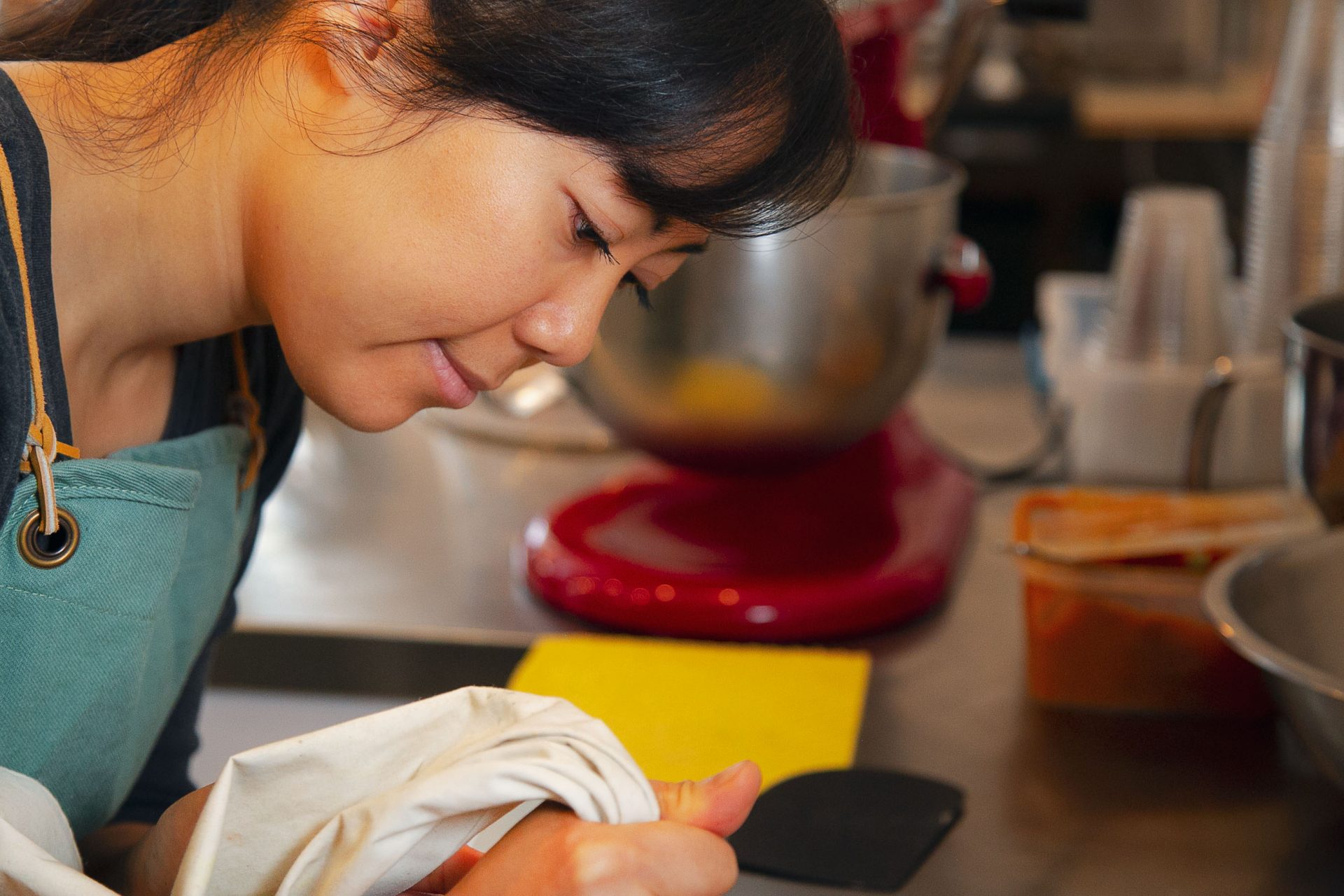 Content with baking being her hobby, she still planned and felt expected to pursue a career in medicine or business. It wasn't until she landed her first job in high school at a cafe that she decided to reassess. The owner was rarely around and Steph was often left to her own devices to manage the shop. Overseeing how the cafe operated and how the pastries were made from scratch lead her to follow her passion and enroll in the George Brown pastry program.
Stephanie fell in love with the course and never looked back. She was able to get exposure to every aspect of baking she'd ever been curious about. From there, she wanted to expand this knowledge by working in a restaurant. Through staging and persistence, she landed jobs at both Luma and Buca on top of her full course load and found a particular passion for French pastries.
Her ultimate dream was to work in a French pastry shop, and what better place to do that than France itself. She made it her goal to move to France after she graduated, and although her mother didn't approve, she couldn't argue that the stars seemed to be aligning. It just so happened that one of her professors was developing a French pastry program and offered to take a select few students along to scope out their pastry school and attend workshops. 
Stephanie was honored to be asked to make the trip, along with a few other pastry students and a man named Bruce Lee, a culinary student who was close to the professor. Steph, being the competitive person that she is, was annoyed that a culinary student would be filling a spot on the trip for which a pastry student would be better deserving. Who was this guy? Who did he think he was? Little did she know, he was her future husband, but we'll get to that in a moment.
Word spread of Steph's annoyance, and with Bruce fully aware of her skepticism of him, it made for an awkward first meeting. It wasn't long before Bruce proved himself through his passion for French cuisine, and his talent in the kitchen. It also didn't hurt that he was the only one who spoke French. Needless to say, Steph was suitably impressed and they both decided to stay in France after their colleagues left to go back home.
Bruce stayed in Paris, and Stephanie scooped up a job at a Michelin star restaurant called Regis et Jacques Marcon, in a small town called St. Bonnet Le Froid, Auvergne. 
"I remember watching the service for the first time," she explained. It was unlike anything she'd experienced before. Pastry had its own designated kitchen, and dessert wasn't just an afterthought, but an entire journey after your meal. "Watching the pastry chef's work was like nothing I'd ever seen". From 8am to 1am, the cooks would have to put their head down and work, and she realized early on if you weren't willing to commit, you weren't going to make it in the industry.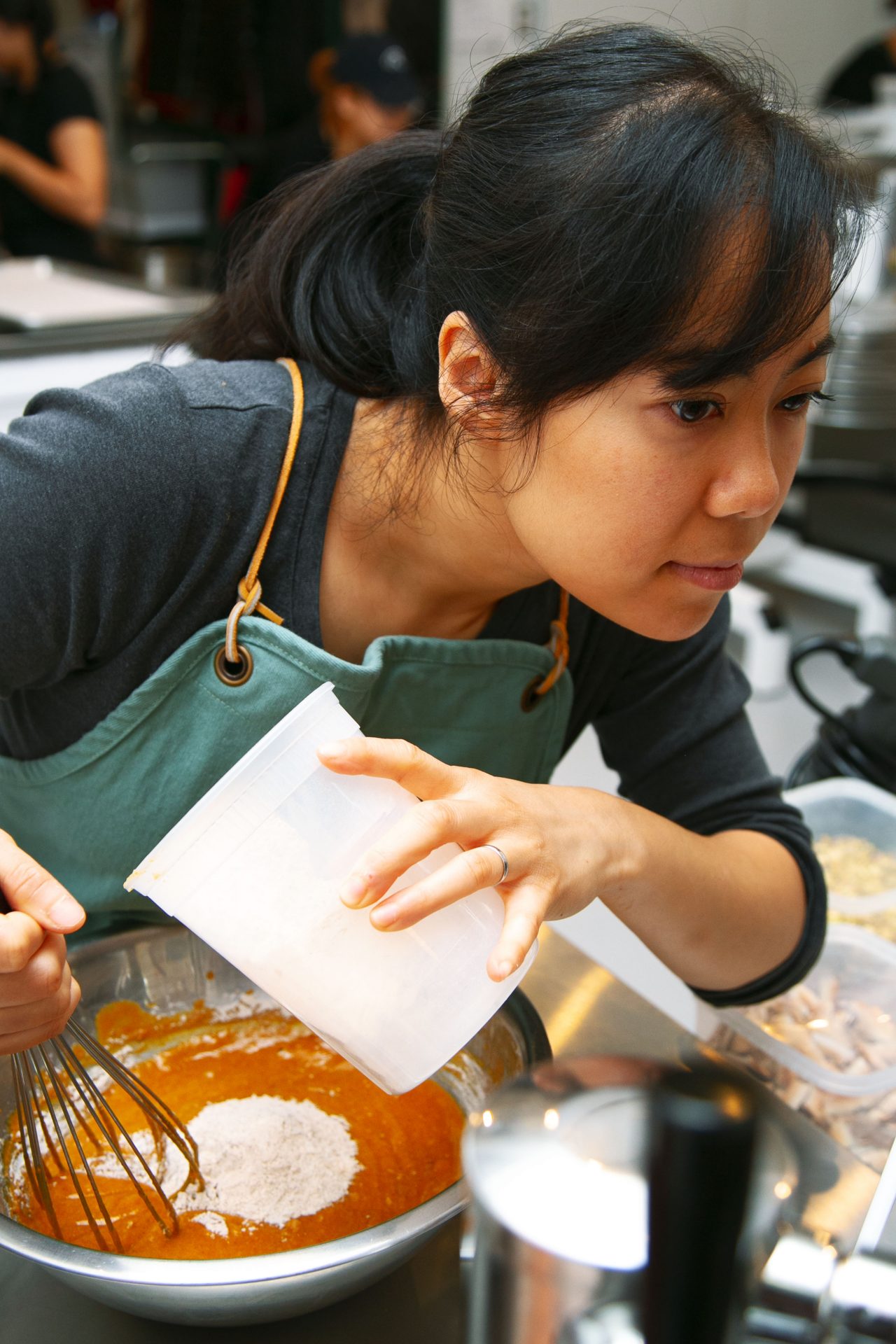 Outside of work, her skepticism of Bruce was well behind her, and on weekends she'd travel to Paris and go pastry shop hopping with him They'd share stories from the trenches of the kitchen over buttery croissants and sweet macarons. But even when her contract with Regis et Jacques Marcon was complete, she felt she still had much more to learn and experience. So she decided to move from her small French town to Paris so she could educate herself more on the world of French pastry. She asked Bruce if she could crash at his place while she looked for her own space, and their connection grew stronger as they were each other's closest thing to home. Eventually, Steph gave up on finding her own place. 
She landed a job for a chocolatier named Jacques Genin who had a huge impact on how her career would unfold. She specifically remembers the mind-blowing caramels they made, infused with unique flavors of mango, passion fruit, raspberry, and different nuts. 
Inspired by France, but missing their families, Bruce and Stephanie eventually decided to move back home with all sorts of ideas in their back pocket. Steph wanted to take what she'd learned from the chocolatier and introduce it to Toronto. Together they sold unique caramels wrapped with love at farmers' markets and events across the city. But it was only a few months before Bruce wanted another adventure, and decided he wanted to experience work in Hong Kong. Resistant at first, but wanting to support her partner, she agreed to join him and they left for Hong Kong after a summer in Toronto.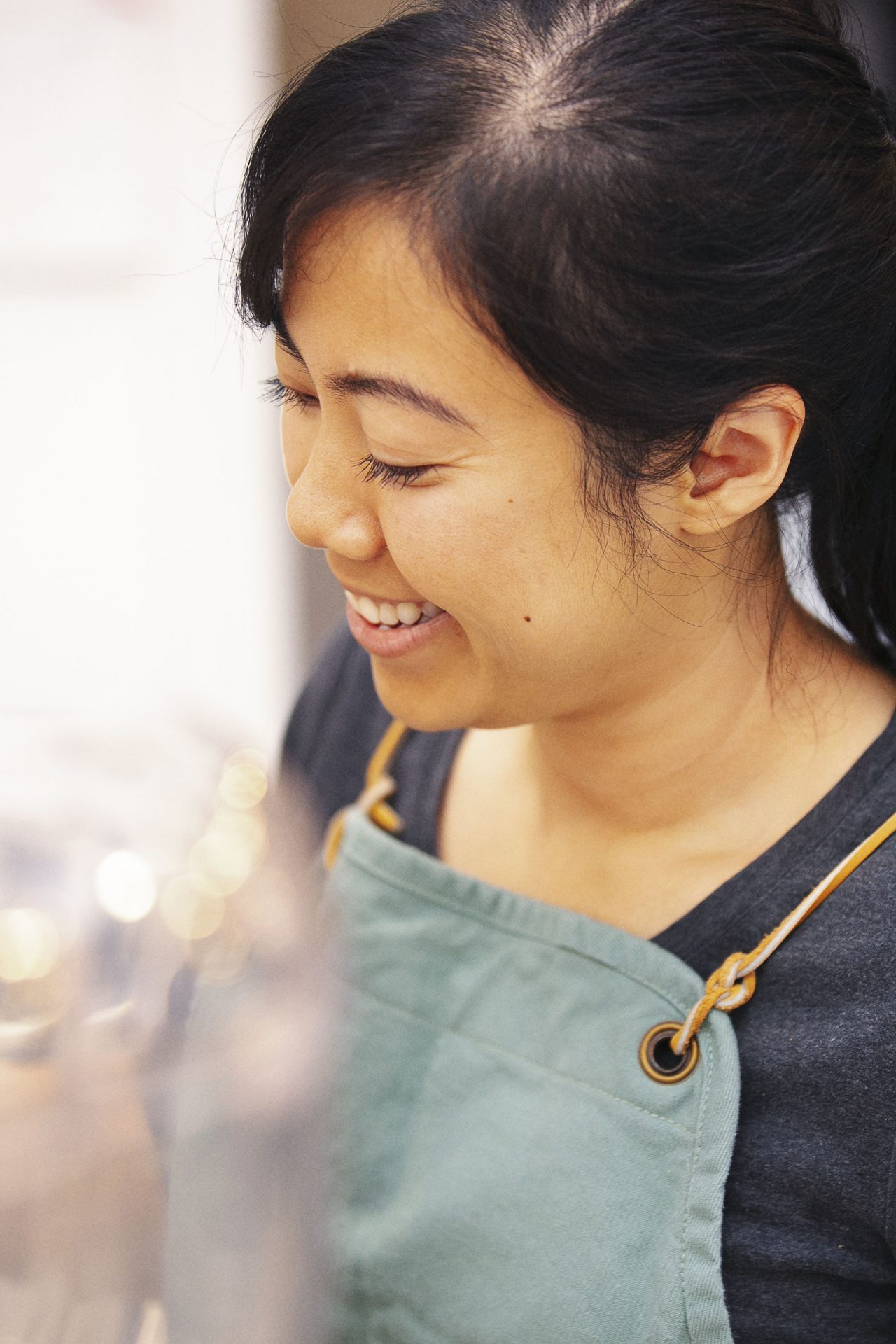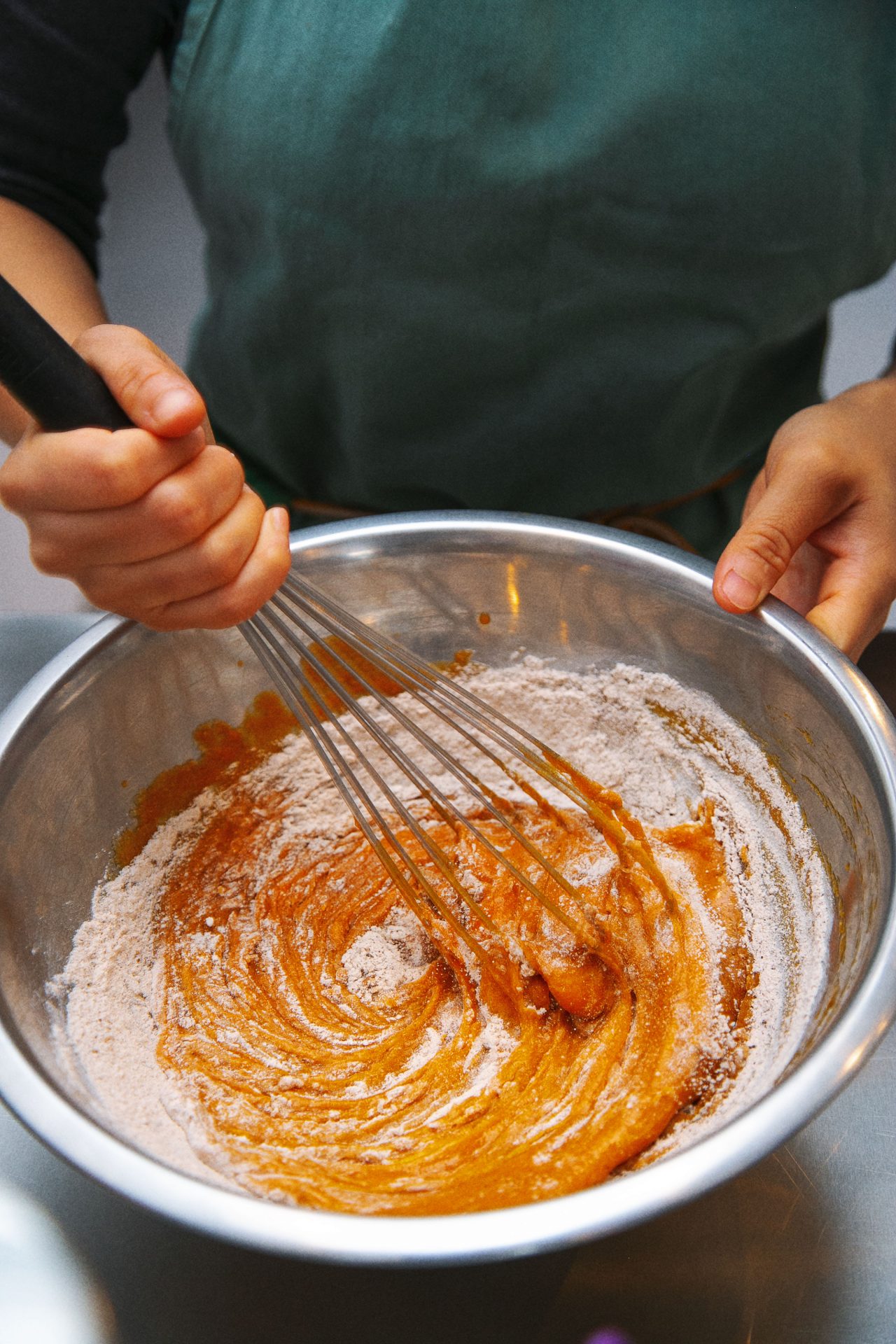 Even though she was now in Asia, her obsession was still with French food, and so she got a job at a Michelin star cafe called L'Atelier de Joel Robuchon. Here, she got to experience the boutique side of the business rather than doing service at a restaurant. Though she was grateful for the experience, it wasn't her favorite place to live and they left after a year of work to come back home to Toronto. 
At this point, Steph was exhausted and no longer wanted to give all her energy and hours to another restaurant. Instead, she wanted to create a space with Bruce that was their own. They had dreamed up the experience they wanted to create in the city, and just needed the perfect space. It took a year of working other jobs to build up their savings before they could then find the right place to bring Roselle to life. 
In 2014, they opened their first storefront on King Street East at a location that was a  former catering kitchen that had the bare minimum for them to get started. They opened quietly and the response was great from the beginning. Stephanie explains the first day as if it were yesterday. "I remember the first customers coming in and giving them a cake and there was no feeling like it," she said.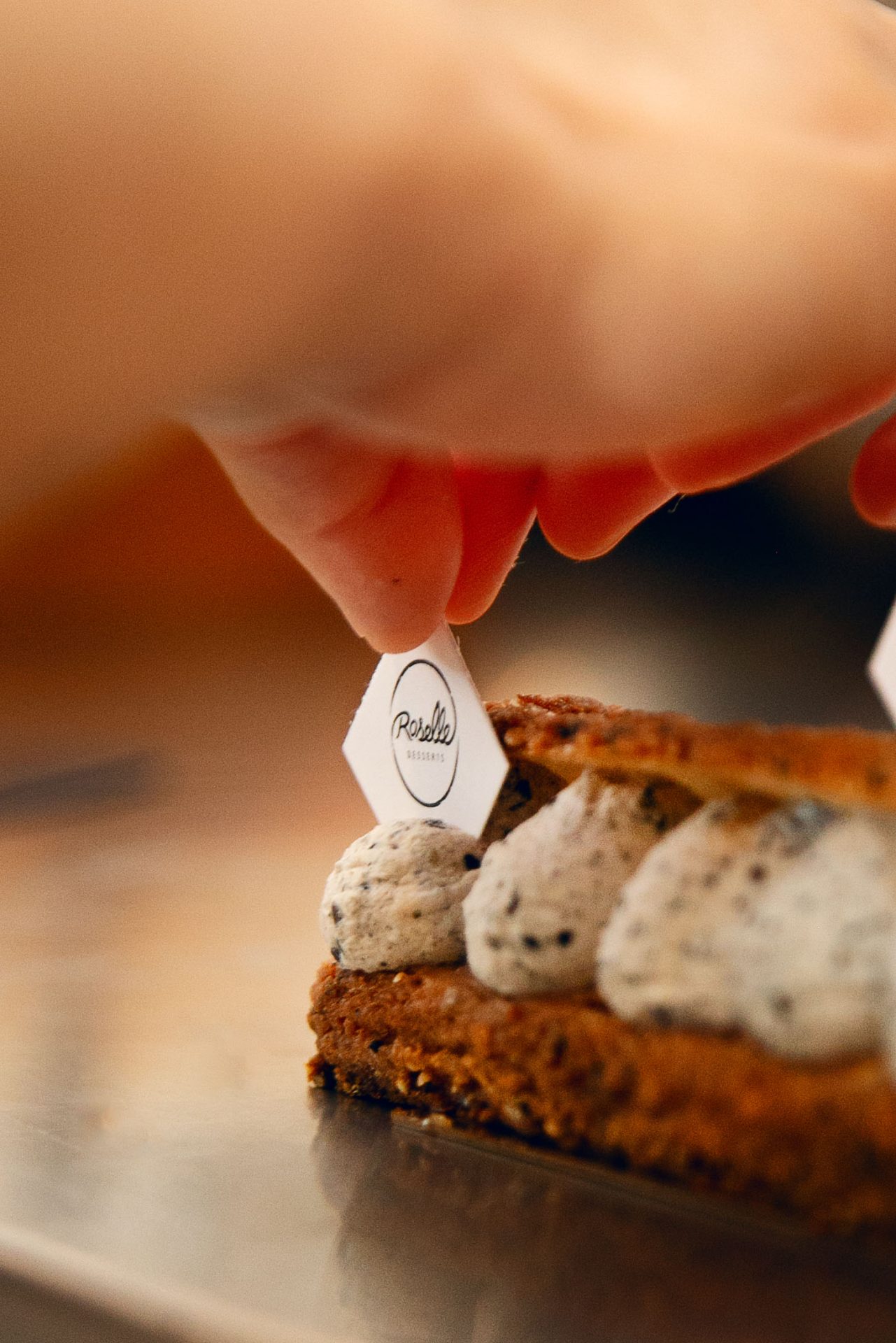 Stephanie holds their first location dear to her heart. It reminds her of their humble beginnings and she's so touched by the tight-knit community they've built there, and she hopes to create something just as special at their new location in the west end. 
Roselle is built on Stephanie and Bruce's love for sharing food and their findings abroad. Stephanie stressed the importance of being true to yourself, and how they don't let the food trends in Toronto dictate what they make for their customers. Unlike most fads that come and go, she explained that "if you're consistent, people will crave what you have and keep coming back." We couldn't agree more.
And with that, we were on our way, with one last question for Stephanie. "What is food to you?"
"Food to me is love. Food is how Bruce and I met. It's how we fell in love with each other and it's what kept us going through all these years. The industry will wear you down but at the end of the day, we love what we create. We love eating and sharing with people, and to have a business where people can take what we've made home and enjoy it with the people they love and celebrate special things – that's love. It's amazing to be a part of that. There's no greater pleasure."